What should we call our new all-natural ingredient for skin and hair care?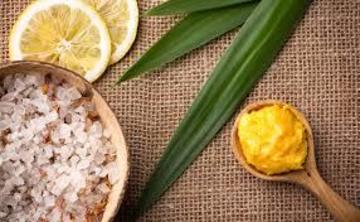 Thanks to state-of-the-art processing methods, we have created a brand new type of skin and hair care ingredient that is based on purified vegetable oils like rapeseed. These all-natural oils are highly effective, and provide the same benefits as silicone alternatives, but are 100% natural, and 99% based on bio-renewable carbon.
We want your help finding a name for this new all-natural ingredient. As you think of your name, imagine you are shopping in the cosmetics department and looking for hair or skin products. You want something that conveys the product is all-natural, but assures you the product still provides the softness, moisture, and protection of other non-natural products.
See the images below for inspiration around the vibe we'd like achieve with the name.
Deliverables
Please answer the following:
1) What name would you give our new all-natural ingredient for hair/skin care?
Why did you choose this name? Why will it inspire people to buy?
2) Provide three keywords you feel are most linked to the name of your product. Remember, these keywords should be related to the all-natural nature of the product and its positive properties.
Additional guidelines:
Your idea should be language-neutral so that it's internationally applicable
The idea should not have any chemical terms
The idea should not contain any plant names
Submissions will be graded on the following criteria:
Meets Deliverables
Creativity
Clarity
You can submit up to 3 times for this challenge.
Reward Tiers
Top 10%
will share $1,000
Actual individual rewards will be based on the total number of eligible solutions.
Leaderboard
$21.30

Pedro M

University of Providence

$21.30

Megan Lynch

University of Connecticut

$21.30

Deuvshree Sharma

University of Delhi

$21.30

Aaron Jon Tetteh

University of cape coast

$21.30

Jeremy Blandford

Louisiana State University in Shreveport

$21.30

Shubhangi Bhatt

$21.30

Millicent Tan

De La Salle University - Manila

$21.30

Amirya Star

Georgetown University

$21.30

Amirya Star

Georgetown University

$21.30

Emily Armstrong

Queen's University

$21.30

Jorge Mario Vega Iglesias

Universidad Santo tomas

$21.30

Connor Pellan

University of Central Florida

$21.30

Yannick Geck

Ulm

$21.30

Nina Younadam

San Diego State University

$21.30

Joseph Alison

Massey University

$21.30

Huzefa Degani

Jamea Saifiyah

$21.30

Marina Fonseca

Columbia College Chicago

$21.30

Mike Love

Louisiana State University in Shreveport

$21.30

Bruce Barnes

University of Central Florida

$21.30

Sharicia Mason

Jacobs University Bremen

$21.30

Brent Pappas

University of Central Florida

$21.30

Julia Youm

University of Alberta

$21.30

Shaquib Kazmi

Indian institute of management Bangalore

$21.30

Sundar Manku

Queen's University

$21.30

Kimberly Brennan

SAINT PETERSBURG COLLEGE, FLORIDA

$21.30

Aurora Weigert

Penn Foster

$21.30

Julian SIlva

University of Central Florida

$21.30

ACHARYA AYORO EDWIN

KENYATTA UNIVERSITY

$21.30

Kassandra Sviantek

Penn Foster

$21.30

Thandi Sewell

Penn Foster

$21.30

Shubhi Rawat

Mumbai University

$21.30

Rebecca Palhano

University of Central Florida

$21.30

Deepika Mawandia

Mumbai

$21.30

Harsh Khatod

BIT

$21.30

Tonya LaPrarie

University of Central Florida

$21.30

Eshna Sengupta

Illinois Institute of Technology