Can you create the perfect boat cover?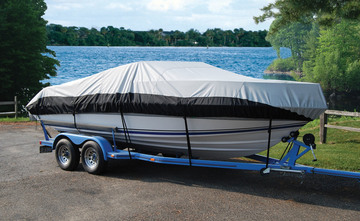 Imagine this: You walk up to your boat on the dock, where it sits beneath its form-fitting cover that protects it from sun and water damage. You press a button and the cover is gone, allowing you to enjoy a day on the water. When you dock somewhere else, you press the button again and the cover is back on.
This perfect boat cover doesn't exist, but you could change that. We want maximum coverage and protection with minimal effort and storage.
Boat covers are necessary accessories for owners of sport boats, cruisers, and large boats who want to protect their crafts. However, removing, storing, and reinstalling boat covers is consistently one the biggest complaints boaters have. Currently, boat covers are typically made from heavy canvas that is secured with snaps, zippers, or slides.
Deliverables
Propose a boat cover that easy to remove and reinstall. Specifically, answer the following questions in detail:
What material(s) should be used to create the boat cover of the future? How are these materials better than heavy canvas?
How does the user quickly and easily remove the cover? Once removed, how is it prepared for storage?
How is the cover reinstalled? What secures the cover to the boat? Are any special tools or systems required for installation or removal?
Please include a visual to help illustrate your idea, such as a CAD rendering.
Please consider:
- Boat cover removal and reinstallation often occurs in marine environments where space is limited, and the boat may already be on the water.
- We are open to moonshot ideas that would only be implementable in the future, but small changes that make the process easier now are also valuable.
AVOID:
- Ideas that currently exist on the market
- Ideas where the cover is attached to the dock and hoisted on or off the boat. It must be something that attaches to the boat alone.
For more images of current boat covers, see the attachments at the bottom of this page.
Submissions will be graded on the following criteria:
Meets Deliverables
Creativity
Clarity
Additional Materials:
Reward Tiers
Top 10%
will share $1,000
Actual individual rewards will be based on the total number of eligible solutions.
Leaderboard