Can you create the perfect boat cover?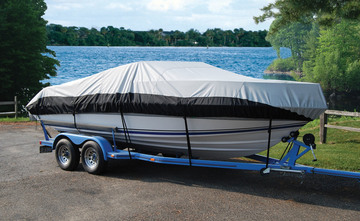 Imagine this: You walk up to your boat on the dock, where it sits beneath its form-fitting cover that protects it from sun and water damage. You press a button and the cover is gone, allowing you to enjoy a day on the water. When you dock somewhere else, you press the button again and the cover is back on.
This perfect boat cover doesn't exist, but you could change that. We want maximum coverage and protection with minimal effort and storage.
Boat covers are necessary accessories for owners of sport boats, cruisers, and large boats who want to protect their crafts. However, removing, storing, and reinstalling boat covers is consistently one the biggest complaints boaters have. Currently, boat covers are typically made from heavy canvas that is secured with snaps, zippers, or slides.
Deliverables
Propose a boat cover that easy to remove and reinstall. Specifically, answer the following questions in detail:
What material(s) should be used to create the boat cover of the future? How are these materials better than heavy canvas?
How does the user quickly and easily remove the cover? Once removed, how i