How can an auto/property insurance company better engage with consumers under 35?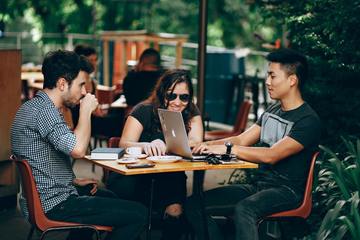 We are a leading auto and property insurance company so keeping up with how to engage our clients is always a top priority. Lately we have noticed that things such as where you live, your age, and life goals really play a role in how you engage with your insurance company.
We are looking to better engage with consumers under 35. We would like detailed ideas and insights to better engage and understand this demographic. This can be a brand new idea or improvements to current methods.

Deliverables
Please answer the following:
1) In detail describe how you think an insurance company should engage with the Millennial and Gen Z demographic. (Under 35)
How would your idea make insurance more interesting?
How would you measure engagement?
How would you measure the success of engagement?
2) In detail describe why you think your idea would be successful from a consumer stand point?
What can a company do to build trust and show they are reliable?
What does this demographic look for in an insurer?
3) What unique needs do consumers under 35 have from an insurer?
Submissions will be graded on the following criteria:
1-10 Scale
Reward Tiers
Top 10%
will share $1,000
Actual individual rewards will be based on the total number of eligible solutions.
Leaderboard
$71.40

Rita Yip

University of Auckland

$71.40

Matthew Gaiser

Queen's University

$71.40

Sharon Ewanleifoh

$71.40

Sharicia Mason

Jacobs University Bremen

$71.40

Prithvi Raj Bhupathi

RMIT University

$71.40

Vartika Parekh

$71.40

BENSON DURIAS

Mindanao State University - Iligan Institute of Technology

$71.40

ERIKA FERNANDES

Mumbai

$71.40

AADHITHYA SUJITH

Bangalore Institute of technology

$71.40

Benjamin Mpolokoso

New Jersey Institute of Technology

$71.40

janice dioas

$71.40

Tabitha Norton

University of Toronto

$71.40

R Petrova

$71.40

Tetiana Ryzhankova

Georgian College

$19.00

Tasha Smith

University of Kentucky

$19.00

Sam Decosta

$19.00

m .

$19.00

Jacqueline Duong

University of California, Los Angeles

$19.00

Vojvoda Vuk

FHNW

$19.00

Aphilile Saho

University Of Fort Hare

$19.00

Kgaugelo Mohlamonyane

University of South Africa

$19.00

Ingrid Neto

$19.00

Chike Uke

Nnamdi Azikiwe University Awka, Nigeria

$19.00

Alia Le

George Mason University

$19.00

Patience Kabura

San Jose State University

$19.00

Nicholas Mwangi

KCNP

$19.00

Shreyansh Sarkar

Saint Xavier's College

$19.00

Maneesh Srivastava

GAUTAM BUDDH TECHNICAL UNIVERSITY

$19.00

Hugo Pimenta

$19.00

K B

Ferris State University

$19.00

Inacio Navele

Escola de Jornalismo, Maputo

$19.00

Ali Naqi

University of London

$19.00

Jerom Palimattom Tom

Mar Athanasius College Of Engineering

$19.00

Shahid Nazir

PTU

$19.00

Jessie Jahns

$5.60

Junye Ou

University of North Carolina at Chapel Hill

$5.60

Phillips Staninski

University of Chicago

$5.60

Venilson Silva

Federal University of Piaui

$5.60