What's the ideal fast, portable, warm meal that isn't a sandwich?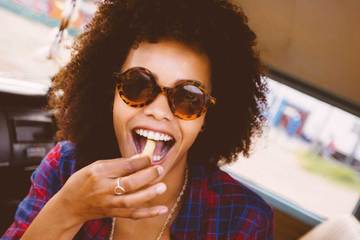 More and more Americans are eating on-the-go meals and snacks these days, with an emphasis placed on food that is quick and easy. When it comes to fast, portable, warm breakfasts and lunches, the sandwich is the obvious choice. But we want to get beyond the obvious and give people more options. 
Our goal is to think past the sandwich and find the perfect balance of breakfast and lunch that is warm and filling while still healthy, non-messy, and portable. 
Deliverables
Tell us your ideas for the perfect warm, portable, non-sandwich breakfast or lunch that a quick serve restaurant could offer. Specifically, answer the following questions in detail:
What fast, portable, and warm non-sandwich offerings would you love to see at a quick-serve restaurant for breakfast and/or lunch? Explain everything about them, including ingredients and preparation.
Why do your ideas from Question 1 seem like good options? Have you seen other restaurants offer these kinds of foods? If so, where?
How should your food be packaged for the utmost convenience and to avoid messiness?
NOTE: Ideas can be portable versions of traditional lunch and/or breakfast foods you already know and love or something totally new. However, it must be served warm.
Submissions will be graded on the following criteria:
Meets Deliverables
Creativity
Clarity
Reward Tiers
Top 10%
will share $1,000
Actual individual rewards will be based on the total number of eligible solutions.
Leaderboard