Protect cold ice cream from the hot sun!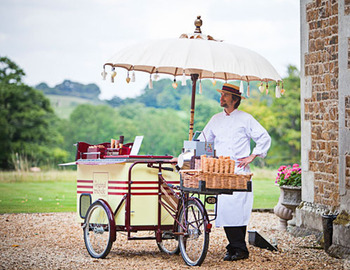 There's nothing better than spotting a brightly colored ice cream cabinet resting on the ground in the middle of a hot day out and about. Keeping frozen treats cool in the middle of scorching heat and bright sun is no easy feat though. One shortcoming of most ice cream cabinets is that they don't always have the power necessary to stay cool enough on especially sunny days.
More than the temperature outside, solar radiation is able to penetrate the thin metal plates of the ice cream cabinets and possibly damage the products inside. Umbrellas and glass doors only protect parts of the cabinets, and warming of these barriers from the sun (glass cabinet) often compromises refrigeration efficiency. We're looking for more ways to keep solar radiation and heat out, and fully-frozen Ice cream in.
Deliverables
Propose a system to protect ice cream from solar radiation from the sun, when sold outdoors.
Ideas can include but are not limited to shelter concepts, reflective materials, and cabinet positioning, to address this radiation phenomena (i.e. which parts of the electromagnetic spectrum are blocked and which pass through)
Your submission must include:
1. A written description of your system and the materials it will be made of
2. An explanation of why your system is the most effective technique to prevent solar radiation from causing heat ingress
3. (Optional) A drawing, sketch, or mock up of your proposal
Additional Info:
- The container itself is branded, so it absorbs more radiation than if it was white
- Summertime radiation = 1 kilowatt per square meter
- The cabinets are made from polyurethane (Wall thickness about 70 mm PU)
- Inner temperature must be kept at below -18C
- Please do not submit the idea of using an umbrella unless it is a new, innovative, non-standard umbrella
Submissions will be graded on the following criteria:
Meets Deliverables
Creativity
Clarity
Reward Tiers
5 Winners
will receive $150 each
5 Honorable Mentions
will receive $50 each
Leaderboard
Submission questions