What would you name our tasty new snacks?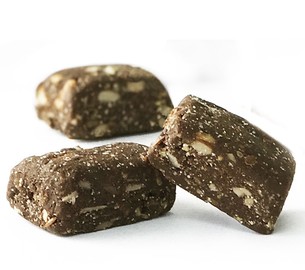 We want YOUR help in naming our new snacks - a delicious combination of dates, sunflower seed butter, seeds (chia, pumpkin & flax), chocolate, and other fine ingredients. These snacks are healthy, a little indulgent, and a whole lot tasty! Packed in a stand up pouch in the snacks section of stores and available in Chocolate Brownie, Chocolate Coconut, and Chocolate Mint.
Deliverables
Propose a name for this new line of snacks. Specifically, answer the following:
What should they be called?
Why is your name is a good fit? Please explain in detail.
Submissions will be graded on the following criteria:
Meets Deliverables
Creativity
Clarity
Reward Tiers
Top 10%
will share $1,000
Actual individual rewards will be based on the total number of eligible solutions.
Leaderboard
$19.60

Lisa Johnson

University of Central Florida

$19.60

Harper Schmalz

Wilfrid Laurier University

$19.60

Jessica Ellis

Colorado School of Mines

$19.60

Dylan White

University of Florida

$19.60

Ian Halcomb

Colorado State University

$19.60

Ellis Lee

University of California at San Diego

$19.60

Nicholas Stagliano

Rosemont College

$19.60

Ruth Owana-Jack

Chandigarh University, India

$19.60

Mohana Manikandan

Anna University,Chennai

$19.60

Sharicia Mason

Jacobs University Bremen

$19.60

Meagan Bartlett

Columbus State Community College

$19.60

miracolose

$19.60

Allie Mgrublian

Stephens College

$19.60

Liz Morris

Durham College

$19.60

Thereza Rodrigues

Florida Atlantic University

$19.60

Emily Giroux

St. Clair College

$19.60

Joshua Zorn

University of Wisconsin - OshKosh

$19.60

Richard Papenfus

The University of Oklahoma

$19.60

Francis Daniel Santia

Harvard University

$19.60

Ashlee Heinrich

Grand Canyon University

$19.60

Teagan Kennedy

SUNY Geneseo

$19.60

Jessica Thompson

Northeastern University

$19.60

Kaley Coleman

Union University

$19.60

Jayna Lennon

$19.60

Cortney Brown

Wright State University

$19.60

Rachel Stone

University of Central Florida

$19.60

Camilla Mann

University of Victoria

$19.60

Ashley Koranteng

George Mason University

$19.60

Hannah Hedstrom

Lehigh University

$19.60

Katy Reinhardt

$19.60

Augie Martinez

University of Central Florida

$19.60

Phillips Staninski

University of Chicago

$19.60

Christine Scott

Cornell University

$19.60

Maria Santos

University of Lisbon

$19.60

Lauren Polson

University of Central Florida

$19.60

Samantha Neff

University of Central Florida

$19.60

Carissa Caruso-DiPaolo