What new flavor should we unveil next?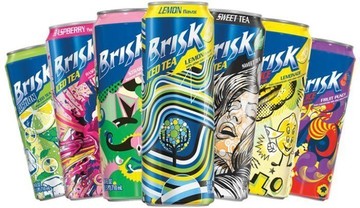 Each year, we create a new Brisk flavor that will be sold for a limited time, exclusively at 7-Eleven stores. For 2018, we're looking for an out of the box flavor that will intrigue consumers, yet fit in the Brisk brand.
Deliverables
Propose a new, out of the box flavor for Brisk. Specifically:
What should the flavor be? Think about cool new flavor combos, or maybe a main ingredient you haven't seen in an iced tea before.
What should we call this flavor?
What color should the drink be? The options are limitless!
How do you envision this flavor's graphics?
Currently, Brisk offers this line of products:
o Lemon Iced Tea
o Raspberry Iced Tea
o Sweet Tea Iced Tea
o Mango Fiesta Iced Tea
o Peach Iced Tea
o Strawberry Melon Iced Tea
o Pineapple Passionfruit Iced Tea
o Lemonade Half and Half
o Cherry Limeade Half and Half
o Tropical Lemonade Half and Half
o Blueberry Lemonade Half and Half
o Watermelon Lemonade Half and Half
o Lemonade
o Pink Lemonade
o Fruit Punch
o Diet Lemon
Submissions will be graded on the following criteria:
Meets Deliverables
Creativity
Clarity
Reward Tiers
Top 10%
will share $1,000
Actual individual rewards will be based on the total number of eligible solutions.
Leaderboard